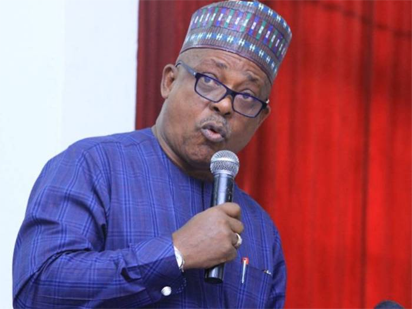 Chairman of the Peoples Democratic Party (PDP), Chief Uche Secondus has said that in the just concluded Presidential Primary of the PDP, there was no victor and no vanquished.
Giving a speech after the declaration of Atiku Abubakar as the winner of the polls, Secondus said that all the aspirants in the election won the election.
Secondus insisted that the process being free and fair, had al the aspirants contesting as brothers, adding that although a winner has been declared, the credibility of the process was a victory for PDP and all the aspirants.
He called on the aspirants to keep true to their congratulatory message to Atiku Abubakar, urging them to work together as one bloc to ensure that the PDP clinches power in 2019 and save Nigeria.
Secondus also used the opportunity to call on the Independent National Electoral Commission (INEC) to "learn from the Presidential Primary of the PDP and know that election can be free and fair"
Meanwhile, the President of the Senate Dr Bukola Saraki who scored the third highest vote in the election congratulated Atiku Abubakar, pledging on behalf of all the aspirants to work with Atiku to actualise the goal of a PDP president in 2019.
Calling for an adjournment of the convention, Sen. Abiodun Olujimi enjoined all parties to work as one to ensur eteh success of the PDP in 2019.
The Convention was therafter adjourned
Source: https://www.vanguardngr.com/2018/10/secondus-no-victor-no-vanquished-as-pdp-convention-ends/