All Progressives Congress, APC, has condemned what it described as "irresponsible, shameful and reckless actions of Peoples Democratic Party, PDP, led by its National Chairman, Prince Uche Secondus; Senate President, Dr. Bukola Saraki, PDP state governors, ranking PDP federal lawmakers who led hired thugs in a failed attempt to forcibly enter Nigeria Police headquarters under the guise of a protest."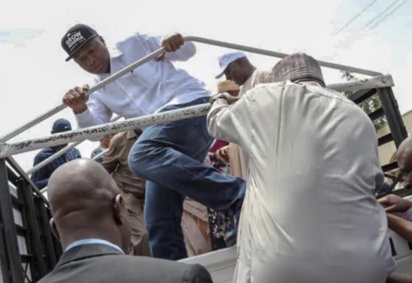 The party in a statement by acting National Publicity Secretary, Yekini Nabena, said:  "If the PDP's confrontation with the Police was an attempt to copy APC leaders peaceful protests in Abuja, ahead of the 2015 elections, it was a low-budget imitation and terribly-acted script.
''The shocking footage of PDP leaders backed by their hired thugs trying to forcibly break the police cordon is a new height of PDP's rascality and penchant for violence.
''The PDP must restrain itself from its usual retrogressive actions and antics, which unnecessarily creates tension in the polity. The PDP's actions at the Police Headquarters could easily have led to injuries and loss of lives.
"As we enter the period of campaigns and electioneering, we urge political parties, particularly the PDP and its agents to stick to issue-based actions and campaigns.
''Violent actions, childish theatrics by tree-climbing and commonsense senators, falsehood and propaganda will not cut it for Nigerians.
''The Nigerian electorate are more interested on how to bring the country out of the rubble PDP administrations left us and refocus the country on the path of true progress and development.
"Finally, we urge the Senate President and the Speaker, House of Representatives, Yakubu Dogara, to immediately vacate their usurped positions and allow for the reconvening of the National Assembly to attend to urgent and pressing national issues, which require legislative attention at plenary."
Source: https://www.vanguardngr.com/2018/10/pdp-leaders-action-at-police-hqtrs-reckless-shameful-apc/