•After unexpected call from Buhari, girl's mother switches off phone
•Father says gesture reassuring
By Sam Eyoboka
235 days after her daughter was taken captive, a downcast primary school teacher, Mrs. Rebecca Sharibu, mother of the Government Girls Secondary and Technical School, Leah Sharibu, who was kidnapped by Boko Haram terrorists on February 19, may have been perplexed when told  President Muhammadu Buhari was on the line to talk to her.
The middle-aged aged woman, who had been inconsolable since March 21 when 105 of the 110 original schoolgirls were returned to the village square by daring Boko Haram fundamentalists in trucks,  for a moment  didn't know what to believe; not sure if some people were pulling a  stunt on her.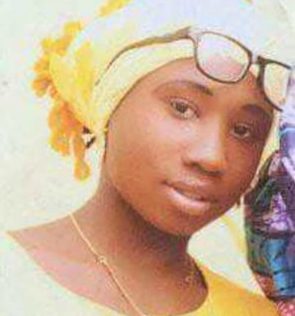 The terrorists had retained the girl after she reportedly  refused to renounce Christianity.
Since February, the mother's telephone number has been very busy, with Christians who often call to pray with her, journalists searching for updates on the plight of  her daughter and  well wishers calling to sympathise with her; but not one call from government. Not even from the school where the daughter scored nine distinctions, three upper credits and one lower credit in JSS examination  last year.
So she was visibly crashing when she was connected to the deep Fulani voice. Initially she was silent during the monologue because she was at a loss even as the President consoled her family and assured her that the Federal Government would do its utmost for the safety and security of their daughter.
"I convey my emotion, the strong commitment of my administration and the solidarity of all Nigerians to you and your family as we will do our best to bring your daughter home in peace and safety," Buhari reportedly said, assuring the mother that his heart was with her family, as that of the entire nation which continues to pray for the safe return of 'our daughter, Leah'.
There's still no guarantee if the distraught mother of Leah  heard one word of what the President  said during that brief discussion  and her phone has been switched off since after that presidential call.
According to the husband, Mr. Nathan Sharibu, she must have switched off because of too many people calling to confirm if Buhari actually spoke with her. "To hear something like that from the President of the country is reassuring. She felt the same way to receive a call from the President",  Sharibu told Sunday Vanguard.
Asked why the wife's line was switched off, he said: "It's because the calls were coming in torrents and she couldn't cope with the number of calls from people who wanted  to know whether it's true that the President actually called her. The calls were disturbing her, that's why she decided to put off her phone."
The father of the kidnapped girl went on: "The presidential call has somewhat reassured me that they will do something concerning my daughter soon. I am confident and hoping that they will hear the cry of a family after several months.
"There is hope of her imminent release but, as a father, I still need well-meaning Nigerians to help us put more pressure on the Federal Government to make haste and release my daughter as soon as possible".
According to him, whether there is political undertone behind the presidential call "is not my business". He added: "You know as parents, all we are crying for right now is for government to hasten to release our daughter to reduce the pain in the family. That's why I am still calling on the Christian community all over the world to help us put more pressure on the Federal Government to ensure the release of the girl to continue her education like her colleagues. I appeal to President Buhari to do something urgently to release my daughter."
Fake report
Shortly after the presidential call to Mrs. Sharibu, there was an online report to the effect that Leah had been released to the leaders of her denomination, Evangelical Church Winning All, ECWA, but the  Chairman of CAN in the 19 Northern States and Abuja, Rev. Yakubu Pam, denied any such development.
"It has come to our notice that some groups and individuals have been spreading the false news that Leah Sharibu has been released and currently in Jos. For the avoidance of doubt, I hereby wish to categorically state that she has not yet been released. Our consistent hope and prayer is that she should be released as soon as possible. Let us continue to pray for Leah and her release, her family and Nigeria as a whole. Thank you and God bless," Pam  stated.
He, however, expressed hope that Leah  may soon be released to her parents.
Asked if the presidential call was reassuring, he said:  "Since the President said it as a father himself,  let me say that we will not doubt him on  this one because I know that all expectations from Christians in the North are on this issue. In our meetings, we don't have any other request than to request for this lady to be released.
"We've damned all other requests. I believe he has considered that before he opened his mouth because I also want to say he should not just play a role of President here but also play the role of a father in northern Nigeria. Let history come to remember him that he did something for Christians that are in the North.
"I believe that will go a long way in whatever political career his name will be carrying in the future. I believe that he will do this for the sake of  the unity of northern Nigeria and the sake of the unity of Nigeria as a whole. So I  have the confidence that before he came out to speak, he must have considered enough. I believe that Leah will come back."
 'Call not reassuring'
Meanwhile, the Secretary of National Christian Elders Forum, NCEF, Pastor Bosun Emmanuel, didn't sound impressed that Buhari eventually called the mother of Leah  because "it  is one thing to call the woman, it's another thing to do what is necessary to get Leah released".
Emmanuel went on: "The call is not reassuring; it's to do the things that will make the girl released that matters. Judging by the antecedents of President Buhari, the call is not reassuring at all because he's not known to keep his promises. Let him get the girl released then we will believe him."
Nevertheless, the NCEF Secretary pointed out that the Christian Association of Nigeria, CAN, will be in a better position to respond to the call made by the President, knowing that the young girl  has been in captivity for about 235 days, "and the President is just calling the mother now. Will he say he didn't know all along? So the call, to me, is just blowing whistle, he's getting ready for election in 2019, that's the strategy. It's not something that is meant to achieve any result. It's a pity."
On his part, the National President of  ECWA, Rev. Stephen Panya Baba, in his response, appeared not enthusiastic about the presidential telephone call, saying: "Honestly, I can only pray. I don't know, Leah's mother will be in the best position to state what it (the call) has done. I suppose it will be encouraging to her.
"In this era of politics, I don't know what to believe and what not to believe, what to consider genuine and what not to. However, every effort is appreciated. We can't be sure of what will happen, despite the President's reassurance that all this violence will be tackled, so many times he has spoken about violence in Plateau, nothing has happened.
"Why should we believe it again? We can only pray, we can always appreciate when he does, but we can only continue to rely upon God to bless whatever effort, including the President's effort to make things work."
Also denying  reports that the young girl had been released to ECWA leaders in Jos,  Baba said there was no truth in the report.  "I've seen all kinds of reports but  they are  not true. We appreciate  the concerns by everyone. We just keep praying that God somehow will step into this and use anybody anyhow to bring her out because reassurance over the years has  proved not to be anything to rely upon. That's the truth. God is our only hope to deliver us."
The EPP letter
It's not exactly clear whether the presidential call was instigated by a letter by a member of the European Parliament and former Prime Minister of Slovenia, Mr. Alojz Peterle, "to deal with an urgent issue at hand",  reminding Buhari about the global interest  Leah's  case is generating.
In the letter, dated October 2  and addressed to the President, Peterle urged  him "to seize the opportunity and do what is right through demonstrating your respect for the citizens under your care".
Acknowledging that it had  come to their attention in Brussels, "as well as in many other governments around the world, that a 15-year-old girl named Leah Sharibu was left behind in the hands of the abductors", the letter said: "We cannot stand by while one girl remains in captivity. Can we count on you to use the fullest extent of your authority and power to ensure the release of Leah Sharibu?"
Source: https://www.vanguardngr.com/2018/10/our-daughter-leah/