A group, "We The People Forum (WTPF)" on Sunday called for the amendment of the Electoral Act to compel parties to adopt direct primaries in choosing their candidates.
The Convener of the group, Mr Nathaniel Okoro, made the call in a statement on behalf of the group, made available to Newsmen in Lagos.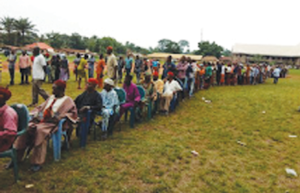 According to the group,it is imperative for parties to adopt direct primaries in electing their candidates for general elections.
It argued that the delegate system was susceptible to corruption and did not guarantee the emergence of popular choices.
"We believe that for sanity to come to our national political firmament, the electoral law must be amended to make it compulsory for candidates for elective offices to emerge through direct primaries.
"The members of a political party must be the ones to choose their candidates through direct primaries.
"Indirect primaries,through delegates, are presently too susceptible to corrupt tendencies,'' it said.
WTPF also said there was the need for electoral and judicial institutions to be strengthened to build the right capacities for credible elections.
It said that matters arising from Osun State, main and supplementary elections, showed that rigging and vote-buying were widespread.
The group said that similar issues that dominated the Ekiti State elections in 2014 and 2018 must not be allowed to become the template for elections in Nigeria.
In enhancing the credibility of elections, the group urged the Independent National Electoral Commission (INEC) to do more in educating the citizenry about the electoral law.
It also suggested that the National Orientation Agency(NOA) should do more to complement the efforts of INEC on voter education.
The group advised security agencies to play their expected roles in ensuring credible elections, adding that they should desist from acts capable of constricting participation.
On the gale of defections in the country, Okoro blamed the development on selfish interests of politicians and lack of ideology in political parties.
He called for the enactment and implementation of the relevant laws to check the practice.
"The constitution must be amended so that anyone who defects from the party on which platform he won an election to become a political office holder to another party must relinquish his seat and another election must be called in the shortest possible time.
"If the defecting person retains the position in the new election, he is to complete his tenure with the new mandate.
"But in the event that another person wins, the new person is to receive a new tenure of four years.
"This, we believe is the only way to rein the political brigandage savaging the polity through the loop hole in the 1999 constitution," it said.
The group appealed to Nigerians to see the 2019 elections as a national project and urged citizens to play their parts to make it a success
Source: https://www.vanguardngr.com/2018/10/group-calls-for-amendment-of-electoral-act-to-captur-direct-primaries/