By Victoria Ojeme
The South African police on Friday arrested eight officers for the October 2017 torture and murder of Nigerian national, Ibrahim Olamilekan Badmus.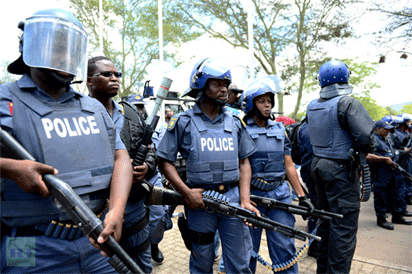 The Nigeria Consul General in South Africa, Godwin Adama, told Vanguard in a telephone conversation from Johannesburg that the officers were two women and six men.
Adama said that the officers were arrested by the Independent Police Investigative Directorate (IPID) and they were expected to appear in the Vanderbijlpark Magistrate's Court on Monday.
The CG said Badmus, 25, was allegedly killed when the officers interrogated and suffocated him on Oct. 10, 2017, in Vanderbijlpark.
"We have closely followed this case on the spot intervention since the day of the incident on Oct. 10, 2017.
"We issued a strong statement condemning the brutal murder of the Nigerian and called the South African authorities to thoroughly investigate and bring the culprits to justice.
"We equally protested through the diplomatic channel and the case was declared a high profile one," he said. Adama commended the IPID who he said assured of a thorough investigation and they  kept to their word.
Source: https://www.vanguardngr.com/2018/10/s-african-police-arrest-eight-officers-for-torturing-killing-nigerian/