By Egufe Yafugborhi
PORT HARCOURT – CHAIRMAN of the Peoples Democratic Party, PDP, Prince Uche Secondus, yesterday said the party was unstoppable in regaining power from the All Progressives Congress, APC, come 2019, signalling to President Mohammadu Buhari, "It is time to go home"
Secondus was delivering his opening speech at the PDP National Convention in Port Harcourt, Rivers state, on the theme "Nigerians, take back your country"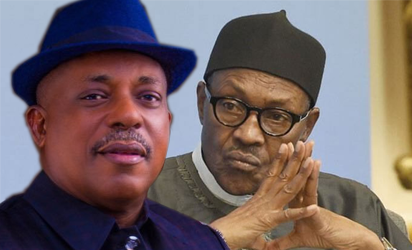 The party chairman reminded a cheering crowd of members that, "For 16 years PDP piloted the affairs of this nation without engaging in the limitless blame game currently being experienced under the APC."
He said PDP within the period lifted the economy, introduced telecommunications, and built the infrastructures, EFCC and ICPC, for fighting corruption and established other reforms.
"Our defeat in 2015 entrenched our democratic credentials as a party of true democrats. The PDP regaining of power is at the verge of being fully realised.
"Today, PDP is in control of the National Assembly. The President of the Senate and Speaker of the House of Representatives are both here with us. The governors of Benue, Sokoto, and Kwara who were in APC are also now in PDP.
"This Convention is in crucial stage of the our great party in regaining power from the APC through an unstoppable force. Since our last convention, all is not well with. The ruling APC has progressively shown that it lacks the wherewithal to manage the country."
He listed the ruling APC's failure to include the "carnage of brutal killings across the land", poor state of the economy and perceived which hunting of political opponents in guise of fighting corruption all of which, he noted, have reduced Nigeria to a mockery of being among worst nations globally on corruption and terrorism.
"Governance has not been this bad. The EFCC and ICPC under APC has been made willing tools to witch hunt political opponents", he noted, adding that the APC's three promises of fighting corruption, improving security and economy have been anything, but successful.
On the party's quest to regain power, Secondus said, "Buhari, it is time to go home. We would use legal process to recover our stolen mandate. PDP would secure Nigeria from the carnage across the land through a law and order approach"
He further said PDP regaining of power in 2019 would bring about creation of employments, restoration of the middle class and that the current growing feeling of marginalisation in the nation would be reduced to a government of national inclusion and unity where human rights and rule of law would be guaranteed.
All aspirants for the presidential ticket were still addressing delegates at the convention towards voting at the time of filing this report.
Source: https://www.vanguardngr.com/2018/10/pdp-convention-buhari-its-time-to-go-home-secondus-yells/