Cristiano Ronaldo, embroiled in rape allegations, scored for Juventus in Saturday's Serie A game against Udinese.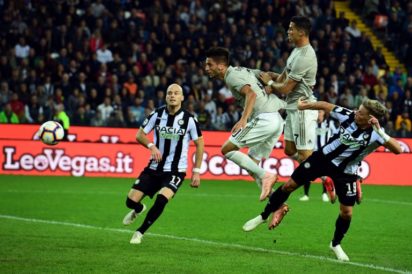 The Portuguese forward lashed in the second goal for the Italian champions after 37 minutes from the left following a cross from Croatia's Mario Mandzukic.
It was his fourth this season for Juventus, with the 33-year-old celebrating wildly with his teammates.
Ronaldo showed no sign of being under pressure despite the damaging accusations made against him and which threaten his multi-million euro sporting empire.
US police on Monday re-opened an investigation into accusations by former American model Kathryn Mayorga that the five-time Ballon d'Or winner raped her in a Las Vegas hotel in June 2009.
Ronaldo has strenuously denied the claims, and Juventus have so far stood behind the 33-year-old superstar, who moved to Turin in the summer in a 100 million euro ($115 million) deal from Real Madrid.
He arrived at Udinese's compact Stadio Friuli and was greeted by the enthusiastic cries of dozens of children waiting for the two team buses.
During warm-up before the game he was even approached by a child who came onto the pitch to ask for his autograph.
Source: https://www.vanguardngr.com/2018/10/embattled-ronaldo-scores-for-juventus-against-udinese/