By Chinonso Alozie
OWERRI—SECRETARY of the committee responsible for conducting the botched Imo State All Progressives Congress, APC, governorship primary, Henry Idahagbon, yesterday claimed he didn't have an idea that Ahmed Gulak planned to escape after the primary, adding that he was with him (Gulak) till 1am.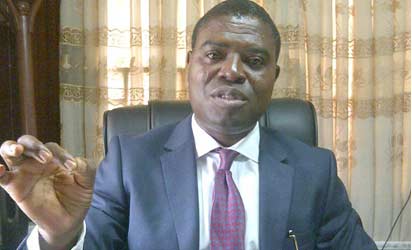 He told Vanguard through the telephone that he was also called to escape, that his life was under threat  but he refused to escape so as not to "endanger the lives of  other members of the committee" and that he "wanted to do consultations before taking any decision."
This came as the brother in-law to Imo State Governor, Rochas Okorocha, Mr. Chuks Ololo and another APC governorship aspirant, Chima Anozie laid claim to winning the primary conducted October 2, 2018, despite having been cancelled by the party's leadership.
Gulak, who was the chairman of the primary election committee, had alleged that he ran away from Owerri to Abuja in a bid to escape a kidnap attempt by loyalists of the government.
The committee's secretary, Idahagbon, however  narrated: "I was with Gulak in his hotel room 701 at the Rockview Hotel until 1am, when I went to my room. There was no inkling that he was going to escape.
"When we didn't see him, we went down to take our breakfast. It was at that point that another member whispered to me that Gulak has disappeared from the hotel and from Owerri.
"He said that I should get my own bag so that we can escape also. I  felt that it was unconscionable for me to escape and endanger the lives of other members of the committee.
"I went up and called other members. I got a call from a man I don't want to name and if they push me to the wall, I will name him. He said I should pick my bag together with other members of the committee and depart from the hotel room.
"Two policemen came and said secretary, you have to leave, there is threat  to your life and I said no, I have to make consultations first. While we were having that conversation, the governor came to the hotel and told us that Gulak has absconded."
Okorocha's brother-in-law, Anozie claims victory
Meanwhile, the brother in-law to Imo State governor, Rochas Okorocha, Mr. Chuks Ololo, yesterday said that he won the controversial governorship primaries of the APC in the state.
Ololo stated this to newsmen in Owerri after the National Working Committee, NWC, of APC disbanded the Ahmed Gulak committee that conducted the primaries.
Recall that  Senator Hope Uzodimma was declared winner by Gulak after which the secretary of the committee, Henry Idahagbon also declared Uche Nwosu winner.
But another APC  governorship aspirant, Chima Anozie, while condemning the APC  governorship primaries   said that before the exercise, he had emerged a consensus candidate of APC from Owerri zone.
Ololo said: "Where we are today is a state of confusion. I believe in due process.  What we know is that there was election. I won that election and I want them to prove me wrong.
"I know what  is going on. The truth is that my opponents do not have what it takes to win the ticket."
According to Anozie,  "These are people that don't know the law. I am a lawyer. I can't bend the law. The chairman told us on Monday that the primaries would be held on Tuesday. I am very surprised at  hearing and seeing results from different places."
Source: https://www.vanguardngr.com/2018/10/imo-apc-gov-primary-why-i-refused-to-run-away-with-gulak-cttees-sec/