By Anthony Ogbonna
Former governor of Ogun State and Director General, Atiku Presidential Campaign Organisation (APCO, Gbenga Daniel , has called on the Peoples Democratic Party, PDP, delegates to rally behind the former Vice President, Atiku Abubakar in the coming national convention billed to hold tomorrow.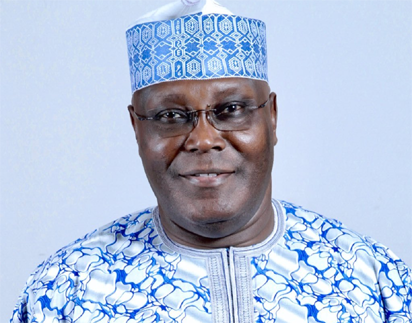 Daniel, in a piece, said the nation is about to rewrite its own history and as such, that the former vice president, Abubakar, has, through his antecedents in politics, proven to stand as the equal challenge against president Buhari.
He said Abubakar stands capable in wresting power out of the ruling APC.
According to him, Atiku Abubakar "has the intellectual wherewithal to make Nigeria work again. Nigerians love him, Nigerians want him."
Read the piece below:
"Esteemed Delegates of our great party,
Our nation is about to rewrite its own history; and it has pleased the Almighty God to append the signature of our Peoples Democratic Party as the author of the new pathway for the country with the choice we make about our Presidential candidate in the next few hours.
"If we succeed, history will never forget us, but if we fail, history will never forgive us and posterity will judge us…" -Otto von Bismarck, former German Chancellor.
I have the greatest pleasure to present Atiku Abubakar, GCON, the Waziri Adamawa, former Vice President of the Federal Republic of Nigeria as the most competent, most capable aspirant, the best option and the man who is ready for the task of getting Nigeria working again, as the candidate for our political party in the February, 2019 Presidential election.
In the next few hours, PDP delegates from various destinations across the country will be saddled with the responsibility of saving our dear nation; you will be expected to choose for the Peoples Democratic Party, and of course the whole country, the man who will take over as the President of the Federal Republic of Nigeria.
This is a great historical responsibility which Providence has thrust upon you all to help save the ship of the Nigerian state; to put right some of the things that we all know, think and acknowledge that are wrong with this country.
My passionate plea, however, is that we should consider ourselves as patriots who out of a population of close to 200 million people, just 4,000 men and women have been selected and elected as delegates of the Peoples Democratic Party (PDP) to the 2018 National Convention.
What this means in essence is that we are the pathfinders for a troubled nation in its time of great need. We should bear in mind, that we are not just choosing a presidential candidate for the Peoples Democratic Party but we are bestowed with the responsibility of choosing a President for the Federal Republic of Nigeria.
As we cast our votes, what should be most important in our minds sincerely, leaving every other consideration is, "Who can help Nigeria at this critical time? Who has the capacity to deliver? Who can defeat the All Progressives Congress (APC) and incumbent President Muhammadu Buhari truly on behalf of our great party?
Today, as 4000-strong great men and women of our nation; our duty is sacred. We have assumed the status of our nation's founding fathers. Our duty, just like theirs at the time of our nation's Independence is to navigate for Nigeria and Nigerians and we cannot afford to fail them. While coming to the National Convention, we should be guided that the whole of Nigeria is our Constituency, not just the PDP; because the citizens are waiting and watching with bated breath for the outcome of the choice we make.
I need to state clearly that the greatest honour, that we can give to Nigerians is to feel their pulse, we should think like them, we should take time to visit them in the markets, discuss with them about their preference in taxis, motor parks, salons and boutiques, in schools, mosques and churches, we should take a reading of the public mood and perception, and truly try to gauge their feelings and interests, we should answer rightly the question about who do they believe or would they prefer to lead us out of the economic impoverishment and unite Nigerians?
Our sacred duty is to those ordinary Nigerians who have been impoverished by poor economic management of our commonwealth, patrimony and God-given resources. Our covenant is with the woman in that hospital who cannot afford good health care service; our social contract is not with PDP leadership, but with all those millions of unemployed youth who roam the streets in search of what to eat. Our sacred mandate is to those men and women who die daily from insurgency as a result of poor management of our security architecture.
We have to think more as patriots than as party men and women in this historical assignment. We are back to the pre-independence era where our founding fathers: Late Sir Ahmadu Bello; the Sardauna of Sokoto, Late Chief Obafemi Awolowo, Dr. Nnamdi Azikiwe, Chief Anthony Enahoro and a host of others had to sit together at tables and for sleepless nights holding several meetings charting a path for our great nation.
Think like them, imagine what kind of thought must be going on in their minds while trying to take this critical decision; Who Can Save Nigeria at this point in time? Who can take back power on behalf of Nigerians away from dictators as we have in Aso Rock at the moment and return it to the People?
I am convinced, just as I know you all are, that ONLY ATIKU ABUBAKAR can guarantee hope of winning against the incumbent in 2019 and restore power back to Nigerians. It then becomes our duty to ensure he gets the ticket of the PDP to be able to liberate all of us from the shackles of this oppressive regime which had returned Nigeria under the jackboot of pseudo military dictatorship.
The State of our nation
Our nation today is in an emergency situation, and this is clearly obvious to all. The more reason we need a leader who is capable, who has the capacity not only to lead, but who also possess the strength of character like Atiku Abubakar to do the right thing to unite the people of our great nation . Our diversity should be our strength and not a source of division.
There comes a time in the life of a nation, that it must re-think and recreate itself. Nigeria is already at such critical crossroad again. We have a plethora of questions to be answered on our nationhood, we have myriads of problems that need experience to be answered and attended to.
Our country is not looking healthy at all from so many fronts, factors and indicators. The nation is in search of a leader who can hit the ground running. Statecraft is not by apprenticeship, Nigeria cannot afford on-the-job-training for its leaders. There are too many activities and competition on the global platform that no country can afford to wait for another crawling country; we either chip in or chip out of the race for development.
There are several indicators pointing to the fact that the social and economic health of our nation is troubled:
1. According to the World Health Organization, an average of 17 Nigerians out of 100,000 now commit suicide every year. This means that around 82 Nigerians knowingly take their own lives largely due to frustration of their present situation daily.
2. The World Bank expressly stated that 53.3% of the people of our country live below $1.90 per day. That is, over 100 million Nigerians who can not boast of taking home 500 naira as daily wage!
3. It is equally disheartening to read via the World Poverty Clock that Nigeria has overtaken India as the world capital of EXTREME poverty with 86.9 million Nigerians living in EXTREME poverty as at June 2018.
4. According to the National Bureau of Statistics, in its third quarter report of 2017 released in December, 7.9 million Nigerians became unemployed between 2016 and 2017. Youth Unemployment Rate in Nigeria increased to 33.10 percent in the third quarter of 2017 from 29.50 percent in the second quarter of 2017. Youth Unemployment Rate in Nigeria averaged 21.73 percent from 2014 until 2017, reaching an all time high of 33.10 percent in the third quarter of 2017 and a record low of 11.70 percent in the fourth quarter of 2014.
5. Despite the much advertised anti-corruption crusade by the current administration, Nigeria scored just 28 out of 100 mark designated for corruption free country according to the corruption perception report of the Transparency International released this year.
6. According to the World Economic Forum report of 2017, Nigeria is ranked out of 137 countries as 127th in Roads quality, 125th in Airport quality, 132nd in electricity supply, 120th in Education and 133rd in life expectancy.
7. Herdsmen attacks have killed over 1,300 in 2018 alone and rendered an average of 300,000 people homeless according to the International Crisis Group report of 2018. In fact the perpetrators are believed to be six times deadlier than Boko Haram yet the Federal Government has refused to take significant steps into ending the killings. Just few days ago we received reports of same attacks on Students in Jos.
8. Up till now, the damning allegations made by the Minister of State for Petroleum Resources on how $25billion of NNPC was siphoned in shady contracts still remain. NNPC has continued to be a sacred web of corruption and sharp practices. In its partial financial result published by Bloomberg, NNPC budgeted for an operating income of 600 billion naira in 2017 but magically still managed to make 82 billion naira operating loss.
9. Nigeria ranks 127th out of 144 in global competitiveness. Poverty rate is 70%.
Why Atiku?
Every well meaning Nigerians should therefore be worried with all the above statistics and data about our country and we should be patriotically desperate to find a solution, which Atiku Abubakar at this period stands to provide.
The Atiku Abubakar Advantage.
I am persuaded without any iota of doubt that our party, being an Opposition, needs a strong candidate like Atiku Abubakar to face and confront the ruling APC.
Atiku Abubakar advantage as the Presidential flag bearer of our party include but not limited to the fact that he is:
1. A highly successful businessman, the largest employer of labour in the country, who knows and has the wherewithal about creating jobs and employment
2. A detribalised Nigerian who can unite every segments of the country.
3. Capable of providing Security through massive employment and job creation; coming from a paramilitary background, he is clearly not a novice about security.
4. Empathic to the plight of ordinary citizens. He is a humane.
He has the intellectual wherewithal to make Nigeria work again. Nigerians love him, Nigerians want him.
The destiny and future of Nigeria is in our hands! The citizens are waiting for us to do the right thing by electing Atiku Abubakar so that we can write our names on the golden page of history."
Source: https://www.vanguardngr.com/2018/10/atiku-who-can-defeat-buhari-for-pdp-asks-gbenga-daniel/