By Joseph Erunke
ABUJA-THREE Nigerian Army officers and two soldiers were last Tuesday,sanctioned, over various offences.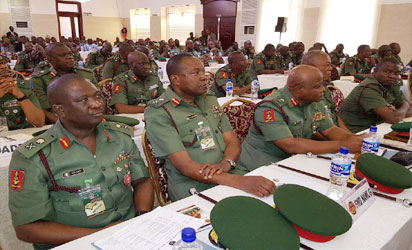 The Nigerian Army,in a statement Thursday night by its spokesman,Brigadier General Texas Chukwu, said the personnel were variously sanctioned by the General Court Martial,GCM,sitting in Maimalari Cantonment ,Maiduguri ,in Borno State.
The statement said the GCM was set up to the erring personnel on various offences against them.
" Speaking while delivering the judgement, the President of the Court Martial Brigadier General Olusegun Adesina stated that the offences were bordered on cowardice, negligence, abduction and discipline,"the statement explained.
It added:"One of the accused, Captain Alhamdu Kwasau was found guilty of offences of cowardly behaviour and negligence while carrying out his military duty. He was reduced to the rank of a Lieutenant with two years lost of seniority on the rank.
" Similarly, Captain Jimen Babangida and Lieutenant Sanusi Bello were also found guilty of conduct prejudice to service discipline. Captain Babangida bagged 9 months forfeiture of seniority on the rank while Lieutenant Bello earned 6 months forfeiture of seniority on the rank of Lieutenant.
"In the offence of disobedience to standing order, Captain Babangida is to suffer additional 9 months forfeiture of seniority on the rank of a Captain.
"Also in a 3- count charge of civil offences bordering on abduction, attempt to commit offence of abduction and extortion against one Sergeant Aliyu Hassan and Lance Corporal Bello Nasiru, the two soldiers were awarded five years imprisonment on the 1st and 3rd offences which are to run concurrently. They were also demoted to the ranks of Corporal and Private respectively.
"He further stated that, all the verdicts passed by the Court are subject to confirmation by the Appropriate Superior Authority, adding that the court martial is to keep troops in check and ensure strict adherence to the code of conduct guiding counter insurgency operations in the North East while protecting human rights.
" The proceedings of the General Court Martial was adjudged fair by both the defence and prosecuting counsel while it was monitored by members of the press."ⁿ
Source: https://www.vanguardngr.com/2018/10/army-demotes-3-senior-officers-sentences-a-soldier-over-misconduct/