By Omeiza Ajayi
ABUJA – The National Working Committee NWC of the All Progressives Congress APC has expelled the Party executives in Zamfara State at all levels.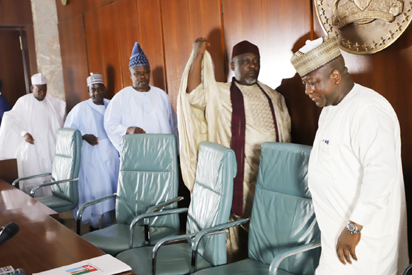 "By this decision all supposed Party factions in Zamfara State stands dissolved", the party said in a statement by its acting spokesman, Yekini Nabena.
This was as the party warned the state Governor, Abdulaziz Yari to steer clear of the Primaries in the state.
The statement added that the NWC-inaugurated committee for Zamfara State are to conduct the Governorship and Legislative primaries in the State. Hence, the Zamfara State Governor, H.E. Alh. Abdul'aziz Abubakar Yari and the dissolved executives in the state should not interfere in the primary elections in the State. The Governorship and legislative primaries will hold from Saturday, October 5, 2018 – Sunday, October 6, 2018″, the party added.
The NWC had earlier approved the cancellation of its governorship primaries in Zamfara state following reports of violence.
This was as the leadership of the party said some officials of the state government had snatched election materials and result sheets which they took to the Government House ostensibly to manipulate the process and cast a blight on its fidelity.
Acting National Publicity Secretary of the party, Yekini Nabena in a statement Thursday in Abuja said "the Prof. Abubakar Faki-led APC Zamfara State Governorship Primaries Committee has announced the cancellation of the primaries held in the state due to election malpractices including snatching of election materials and result sheets by the State's government officials which were taken to the Government House, Gusau".
According to him, "the process was also marred by violence. Subsequently, the Party's National Working Committee NWC has approved the cancellation of the Governorship primaries. A new date will be announced soonest. The NWC reiterates our commitment to free, fair and transparent primaries across the country", the statement added.
Source: https://www.vanguardngr.com/2018/10/apc-reads-riot-act-to-gov-yari-dissolves-zamfara-state-exco/