Abuja—Federal Ministry of Education, yesterday, dismissed insinuations that the Federal Government has approved the hike in tuition fees of Nigerian universities to N350,000.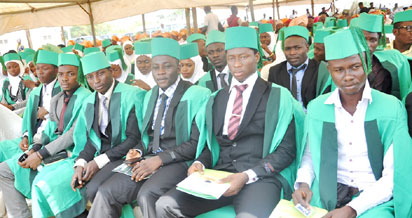 Permanent Secretary in the ministry, Mr Sonny Echono, made the clarification at a symposium in Abuja.
Echono, who said the Federal Government was not planning to increase tuition fees, urged Nigerians to remain calm on the issue.
The symposium has "The right to education means the right to a qualified teacher" as its theme.
He said: "The Federal Government has no intention of introducing new tuition fees in our public universities let alone hiking the figure to N350,000.
"What is true is that the present administration is committed to guarantee quality of education.
"President Muhammadu Buhari has directed the Ministry of Education and the Ministry of Finance to jointly organise a workshop that will inform on a very sustainable and workable recommendation of funding education in Nigeria.
"To this end, we have been engaging various stakeholders, including ASUU, who came up with a very useful contribution that will make all these recommendations achievable."
Education Bank
Echono added that the ministry was working toward re-establishing the education bank to address the role of education funding as the government cannot do it alone.
He said the role of the education bank would be to give loan at a low interest rate, saying this would not be limited to students alone but also parents.
On the right to education, Echono said every child had the fundamental right to quality education, adding that the ministry had developed strategies to ensure pupils and students with special needs were carried along.
Echono said the National Teachers Institute, NTI, had also concluded plans to train and develop the capacity of primary and secondary school teachers in the 36 states and FCT.
He said the right to education was sine qua non to national development, adding that the Ministerial Strategic Plan (2016 to 2019) had been designed to guarantee expanded access to all levels of education.
Echono said the plan was geared toward providing adequately the necessary infrastructure and facilities to ensure that the right to the basic level and standards were maintained.
He, therefore, called on teachers to upgrade themselves as effective from January 2020, any teacher who did not present the prerequisite qualifications would be pushed out of the system.
Echono urged the teachers to take advantage of the professional examinations made available in 35 states and online resource materials to guide them as a teachers.
He, however, called on states governments owing teachers' salaries to take a step in ensuring that teachers were paid as at when due and as well motivate teachers adequately for optimal performance.
Source: https://www.vanguardngr.com/2018/10/no-plan-to-hike-university-tuition-fees-fg/