*As Cole pleads for reconciliation
By Emmanuel Aziken, Political Editor
SENATOR Magnus Abe yesterday firmly rebuffed claims that he had crawled back to the minister of transportation, Rotimi Amaechi for political rehabilitation saying that he would never kneel down before him for political gain.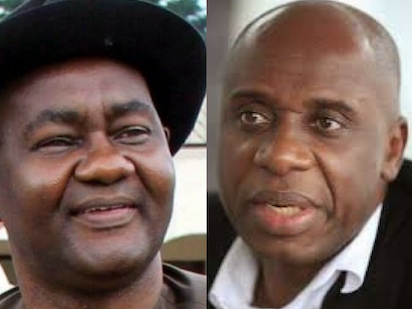 Abe, who emerged governorship candidate of the All Progressives Congress, APC faction led by him spoke as the mainstream candidate of the party, Tonye Cole vowed to reconcile with all aggrieved members of the party ahead of the governorship election.
Abe's assertion followed claims on social media that he had sought rapprochement with Amaechi towards getting his return ticket to the Senate.
Responding to the claims on his twitter handle yesterday, Senator Abe said, "As a Christian, my knees are exclusively for the Almighty God. Those who fear God cannot kneel before man. Our struggle is based on our faith in God and His promise of freedom for the oppressed".
"I bought the form for Governor, and I am running for the office of Governor.
and gentlemen, keep the faith and work hard. Our struggle has just begun and our day of Glory shall surely come".
His assertion was reiterated by his spokesman, Parry Benson where he said that his focus was on the governorship of Rivers State and that insinuations of his plea for the Senate seat were meant to distract.
"Let it be on record that  Senator Magnus Abe remains the governorship candidate of the APC in Rivers State following the mandate freely given to him by members of the All Progressives Congress (APC) during last Sunday's gubernatorial primary election in the state.
Source: https://www.vanguardngr.com/2018/10/abe-my-knees-are-for-god-i-will-never-kneel-for-amaechi/