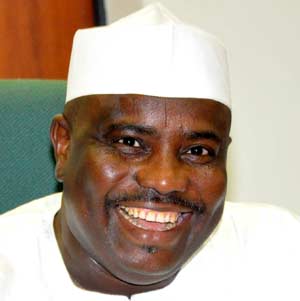 A Peoples Democratic Party(PDP) presidential aspirant, Alhaji Aminu Tambuwal, of Sokoto State on Wednesday said he he was firm believer in fiscal federalism and that he would restructure the country if elected president.
Tambuwal, the governor of Sokoto State, said this while addressing party members in Lagos adding that had the competence and credentials to move the country forward..
The visit to the party secretariat was part of his nationwide tour to seek support for his aspiration.
Tambuwal said he was prepared for the job to pilot the affairs of the country to greatness as he had robust leadership experience.
The aspirant added that he understood the complexities of governance, urging citizens to trust him to reposition the country.
"I am prepared for the job. I have served the nation in many capacities as Speaker of the House of Representatives, as governor among other positions.
"I understand the complexities the governance. You can trust me to reposition the country to the next level.
"I have the experience I have the passion, I believe in the Nigerian project," he said.
Tambuwal said the country was facing serious economic and security challenges which required a leader with the right solutions.
The aspirant said if given the opportunity he would address all the problems within a short period of time.
The aspirant expressed regret that as politically strategic as Lagos was, it had not been controlled by the PDP.
Tambuwal expressed the optimism that the PDP would win the state and pledged his support to make the goal a reality.
He urged delegates from the state to show truly that they were from a state of excellence by voting for "an excellent aspirant".
Tambuwal said if he was voted at the party's convention and as president, he would not forget the people of the state.
In his remarks, the party chairman in the state, Mr Adebola Dominic, thanked Tambuwal for the visit.
He said he had no doubt that he was suitable to be president and that the party believed in his aspiration.
Source: https://www.vanguardngr.com/2018/10/tambuwal-pdp-presidential-aspirant-pledges-to-restructure-nigeria-if-elected/