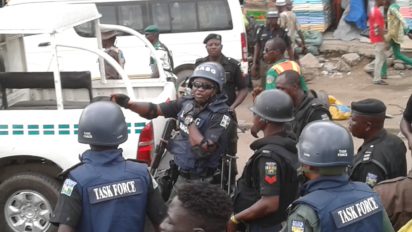 30-yr-old man sleeping with own underaged daughters
By Evelyn Usman
A 30-year-old commercial bus driver alleged to have been having carnal knowledge of his two step- daughters for years have been arrested in Bariga area of Lagos.
Trouble started for the victims (names withheld) aged 13 and 16 respectively, after their parents separated.
Their mother, a cleaner at an undisclosed hospital, moved her three children to her new home, after she remarried.
Their step-father, Femi Peter Abidoye, as gathered, started violating the eldest of the girls, who was 15 years.
Unable to bear the sexual abuse, she reportedly fled home, leaving her two siblings at the mercy of the pedophile.
Abidoye, who is also an auto Mechanic, according to the two younger girls, started the sexual assault by fingering, before progressing to penetration.
The abuse, according to them, continued for years until they turned 13 and 15 years.
They also claimed to have reported to their mother but that she disbelieved them.
The bubble burst after the children complained to the Child Protection Network , at Shomolu, from where they were directed to the Bariga Police Division, two months ago.
Vanguard learned that Abidoye fled his 27, Seriki Compound Bariga, apartment, in a bid to evade arrest.
He was however arrested yesterday, when he attended his mother's burial ceremony.
Coordinator of the Child Protection Unit, Mr Toyin Okanlawon, who spoke with Vanguard, said: "When the girls were taken to the police station, they looked haggard . From the station, they were taken to the Child Protection Unit under the Ministry of Youths and Social Development, Alausa, from where they were linked to a shelter, since two months ago.
"The perpetrator has been abusing the girls for about four years. His wife, who is nursing a five-month-old baby, also has a two years old girl for him. She was present at the station. Her high level of neglect was berated by the Police.
"The girls also mentioned one Mr. Emmanuel of same address whom they said told them not to tell the Police that their father was sexually abusing them."
Vanguard gathered that the home had concluded preparation to enroll the girls in primary schools, having been out of school for years.
During interrogation, the suspect, who initially denied the allegation, said he wanted to teach them a lesson for being defiant.
Source: https://www.vanguardngr.com/2018/10/i-wanted-to-teach-them-a-lesson-30-yr-old-man-sleeping-with-own-underaged-daughters/