By Evelyn Usman & Esther Onyegbula
The Police in Lagos have smashed a kidnap syndicate which specialised in abducting toddlers in Lagos and selling them to ready buyers in the eastern part of the country.
Arrested, were three suspected members of the syndicate, all women, who stole a two-year-old child at 27,T est Oluwale Street, in Olodi Apapa area of the state, five months ago.
Preliminary investigation revealed that the suspects sold the child for N300,000 , to a man in Asaba, Delta State.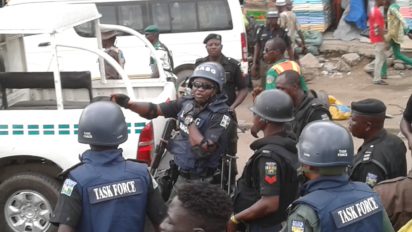 However, the child was recovered by policemen attached to the Anti-Kidnapping Unit of the command in Enugu State, where she was sold to another woman.
Father of the rescued baby, Mr. Nwoagbo Ekene, recalled how his family was thrown into confusion following the disappearance of his child at about 11 am, on May 1. A search conducted round the vicinity according to him, ended in futility as her whereabouts was unknown.
On receipt of the complaint, the Lagos State Police Command boss, Edgal Imohimi, directed the officer- in- charge of the Anti-kidnapping Squad, SP Musa Bulus to use all assets at his disposal to unravel the mystery behind the disappearance of the little girl.
In the course of investigation, one of the suspects, Joy Okoye, 28, of 64 Kirikiri Street, Olodi Apapa, was arrested.
During interrogation, she  revealed that she and another lady whose name she gave as Amarachi, still at large, stole the child and sold her for N300, 000.00, to one Uju Obieze, ( 40), on Okwe road, Asaba, Delta State.
Detectives, as gathered, proceeded to Asaba, on September 13 and apprehended  Uju, who admitted to have bought the child from Okoye.
She disclosed during interrogation that the deal was done in connivance with a 46-year-year-old woman named Ifeyinwa Ezene.
Ezene, was traced to 2, Eze Bishop Street, Onitsha, Anambra State, where she was arrested.
Confirming the arrest, the Command's image maker, Chike Oti, said: "When Ifeyinwa Ezene was apprehended, she confessed to the crime by corroborating the statements of the other two suspects. She added that the child had been resold to one Ifeoma Okoye, female, who lives in Enugu.
"The trio led detectives to 40, Amaechi Street off Agbani road, Enugu, on September 14, 2018, where the victim was rescued from the relatives of the said Ifeoma Okoye who were mourning her, having died a week earlier"
Oti stated that the child had been reunited with her parents, adding that the suspects would be charged to court today.
Source: https://www.vanguardngr.com/2018/10/2-yr-old-stolen-in-lagos-sold-for-n300000-in-delta/