A former member of General Murtala Muhammed's Supreme Military Council in Nigeria between July 1975 and March 1976, and former military governor of Plateau State, Air Commodore Dan Suleiman in this encounter, talks on Nigeria at 58 and answers questions on issues affecting Nigeria currently.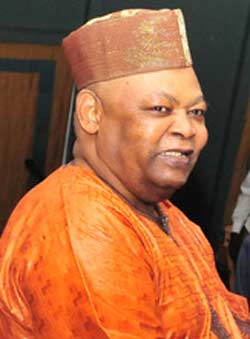 FIFTY-eight years after independence, how have we performed as a nation?
We have to re-examine ourselves. We are fortunate that we are in a democratic setting which gives us a chance every four years to elect the correct people, the right people that will steer the ship of state and another opportunity is coming next year. So far, those that have led Nigeria have failed to provide the needed direction. What is important is for Nigerians to know that a new opportunity is coming next year for us to choose new leaders to handle the affairs of this country.


We should use our voters cards to change the way things are done in Nigeria by voting for the right people both at the federal, the state level and even at the local levels because if we do not elect the right people with the right programmes, then we will continue to lament. Nigerians should use their voters' cards to ensure that the leadership in the country next year is a leadership that would ensure peace and stability in Nigeria because the problem of poverty has no barrier.
The issues that are confronting Nigeria are common to us. Insecurity is all over Nigeria. The killings that we thought were localised to the Middle Belt are now affecting people in Zamfara, Kebbi and other states in the federation, making it a national disaster.
Let us go back to the original dreams of the founding fathers…
The original dream of the founding fathers is a federal government of Nigeria where the power is devolved to the regions. That was what held Nigeria together in the first republic. But when the military came, they introduced unitary government which brought Nigeria to where it is now. The fact that resources of Nigeria are being controlled at the centre is wrong.
The only thing Nigeria needs is to go back to federalism which was what kept Nigeria united. The regions operated independently and controlled the resources generated from their areas, developed themselves according to their abilities and capabilities and sent a percentage to the centre. The centre had its own responsibility to carry which is the defence of the country, immigration activities, international affairs and its revenue comes from the federating units. That is the essence of restructuring which we are hearing all over the place now.
But is it still possible to go back to the old system?
It is possible. If you look at the 2014 conference, you will see that already, recommendations have been made for devolution of power but unfortunately, the government in power has refused to implement it. So, next year, we need to ensure that we have a government in power that can implement the 2014 Confab report because eminent Nigerians from all walks of life gathered to put together that report and if implemented, we will make progress.
Do you perceive any justification for government's non compromising stance on the issue of restructuring?
There is no justification whatsoever because when this government was coming into power, they promised Nigerians restructuring and not good governance. But it's when you restructure Nigeria that good governance will come in. Good governance can only come about when there is restructuring, otherwise we will be lying to ourselves.
Government has always said that the issues we have in Nigeria didn't start today; like herdsmen attacks, bandits' killings and all the killings around Nigeria and have given many reasons for the killings. They have blamed Gaddafi, politicians and all manner of people.
What is playing out today is lack of seriousness by the government. How can you blame a man who died many years ago for the problems we are having in Nigeria today and the man in question was even president of a place quite far from Nigeria? And you mean to tell me government knows the armed men are from Libya and is not doing anything seriously about foreigners invading Nigeria? Why is government not taking care of our borders if they know that foreigners are attacking our country? Why not man the borders with the military if you are sure the armed men are from Libya to stop them from coming in. You cannot go to a civilized nation and talk about foreigners bringing in arms to destabilize their system. So, why are our borders so porous? Why are we allowing foreigners to come into Nigeria and spoil things? It does not make sense.
Insecurity is a very serious matter. I'm a retired general, but how many retired generals do we have in Nigeria who are being consulted? Even as retired military generals, we have our association. We have not been consulted. If we have been consulted, perhaps we might have good suggestions. Most of us served in a time when there was no issue of insecurity in Nigeria.
A responsible government would have called us to ask how we did it in the 70s, 80s and 90s and ensured we had a stable and secure country. There are people who served in those eras who would have given good proposals of what could be done to reshape the security apparatus that will ensure peace and security. But that is not being done. General TY Danjuma is a retired senior military officer. Was the speech he made in Jalingo received well? He was vilified instead. Those are the kind of reactions that we get when we as retired generals, speak out against insecurity. The Presidency should have taken keen interest in the statements made by Danjuma, given his reputation and stature, and not vilify him.
A foremost Nigerian lawyer, Femi Falana did say sometime that restructuring Nigeria will not guarantee unity and political stability. Do you agree with that?
One thing about lawyers is that they speak from both sides of the mouth. In the past, Falana used to stand for restructuring, so why would he start saying now that restructuring would not guarantee the unity of Nigeria? All over Nigeria, there is a cry for restructuring. It is not just from one zone alone. Every part of Nigeria wants restructuring as a way to keep Nigeria one.
What kind of restructuring would you proffer for Nigeria?
I stand for devolution of powers to the federating units. The federating units would be able to maintain governance on their own human and mineral resources. Every federating unit should be allowed to run its own affairs. Devolution of powers, devolution of resources and devolution of apparatus like the Police, that is state police; these are things we are talking about.
You have a military background and were also a military administrator. That means that for you to talk about restructuring, you know what you are saying?
Well, if you know me very well, you'd also know I was part of National Democratic Coalition, NADECO. I was a leader of NADECO who fought for the return of democracy. I was arrested and jailed for my role in the struggle. I lost everything and that tells you that even as a military man, I believed in democracy.
Military  constitution
I was happy that I took part in ensuring that democracy was brought back as a form of government in the country. At the time Gen. Sani Abacha was head of state, Nigeria was almost on the verge of collapse. It was NADECO that struggled to ensure a return to democratic rule and normalcy.
When you look back, how would you say the military destabilized the system?
The unitary government was brought in by the military and I believe the constitution we are using today is a military constitution. The unitary government lodged power on the centre from where it devolves to the states. That is where we have this unhealthy relationship. There is so much power on the centre and it shouldn't be so. It should be the other way round. The unitary system of government in Nigeria is responsible for all our problems.
Why is the system afraid of constitutional amendment? Each time the issue of amendment of the constitution comes up, the system kicks and often subscribes to a few amendments here and there.
It is lack of sincerity that is the problem. Government is known to make promises which it does not keep. This government promised restructuring but it is not keeping that promise. The past regime had a 2014 conference and the current regime does not want to hear anything about it. That is lack of sincerity of purpose.
In the past, there used to be a monolithic north but that has gone under, there's a clear case of division in the north.
June 12 broke the north when power was shifted to the south. Besides, there was never one north. There has always been the middle belt or what today is called the north-central. At independence, most parts of South-South were part of the South East while some belonged to the South West.
Middle-belt now  asserting independence
But that is not the same thing anymore. In such a way, the middle-belt was part of the north and then known to some as monolithic north but not anymore. Middle-belt is now asserting its independence. So, things can never be the same again.
The 'war' in the north, I mean insurgency, do you see any end to it?
It is no more a northern affair. It is now all over the country. You have Boko Haram and herdsmen working to achieve the same purpose all over Nigeria. Where Boko Haram could not reach, herdsmen could. Or don't you know herdsmen are an extension of Boko Haram? Have you heard in the past of herdsmen carrying AK47? So, these are not herdsmen killing people. They are an extension of Boko Haram. I was in the east recently and I saw herdsmen in many places by the roadside and these can transform into anything.
So, how do we get out of these problems?
I told you already.  If a government is not performing, we have a chance coming to change that government. We have every four years to change the system and until we take our problems into our own hands, we will continue to complain and lament. The government promised to restructure Nigeria and eradicate Boko Haram. Have they done that? The answer is no and now, we have another opportunity in 2019 to change the system and bring in the people who will effect a change.
Many Nigerians no longer believe in change or that the next government will effect a positive change because subsequent governments have made promises and failed. So, we are now in a state of distrust?
That is the beauty of democracy. We have scores of political parties now in the system. It is for them to go out and mobilize people. If they don't mobilize, then they should not blame anybody. If you keep quiet, then you are not a true Nigerian. When you say state of distrust, you sound like the people have given up and therefore APC should stay. That should not be attitude. The multitude of political parties should go out and mobilize Nigerians towards a positive change in the system by voting right. I am optimistic that Nigerians are seeing the way things are and therefore should change the situation.
If we have to reclaim Nigeria, we should all go out to elect the right people in government. That is the only way for us. If party A does not work well for the system, go for party B. That is why the system allows many political parties. It is for us Nigerians to make the right choice and vote right.
Have our votes ever counted, even in the past? Will our votes count next year?
Our votes should count. That is why INEC is there. INEC should not serve the government in power. It should serve Nigerians and ensure that their votes count.
You don't see any likelihood that Nigeria will break up?
I'm an optimist. I am not a pessimist. I have seen Nigeria pass through worst times but we are still here. We have always overcome and we will continue to overcome. No, we will not have the fate of the titanic. Nigeria will not break up.
Source: https://www.vanguardngr.com/2018/10/nigeria-needs-to-go-back-to-federalism-dan-suleiman/